Dash (DASH/USD) returns 20% in a day. Has the cryptocurrency turned bullish?
Privacy-focused cryptocurrency Dash (DASH/USD) saw increased buyer interest on Wednesday. As cryptocurrencies turned up, the token's value increased by 20%, one of the strongest. DASH was riding on the positive sentiment, pushing above the $40 resistance.
Dash offers an open-source platform for cheap and fast financial transactions in a decentralised ecosystem. However, unlike other cryptocurrencies, Dash offers an additional layer of privacy for transactions. Native token DASH surpassed an all-time high of $460 in 2021. The strong gains highlighted investors' speculations on tokens of platforms that offered greater anonymity in crypto. However, as the crypto winter ravaged this year, DASH has gone underwater. Recent intrigues also involve pressure from regulators against privacy-focused protocols.
About a week ago, reports emerged that the European Union was creating an anti-money laundering proposal. The new rules prohibit crypto firms and lenders from allowing privacy coins, DASH, Monero, and Zcash. That follows another legislation earlier in the year in which officials worked to restrict transactions with non-hosted wallets.
It remains to be seen what the future of privacy coins like DASH will look like. It still makes sense to bet on the token as opportunities emerge. But should you be ready to buy DASH now?
DASH breaks above $40 amid intraday gains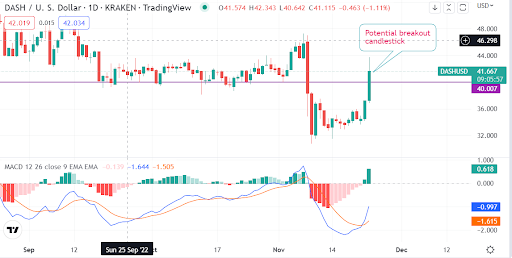 DASH/USD Chart by TradingView
Technically, DASH trades at a monthly high of $42. The MACD indicator has initiated a bullish crossover but remains in a bear zone. 
DASH's short-term momentum is bullish, although the longer-term trend is bearish. A breakout candlestick can be seen towering above the $40 support.
What next for DASH? 
A successful breakout will be confirmed by how the daily candlestick closes. If the candlestick closes above the support, $40 will become a new support and set DASH for further gains. Buyers will target $47 next or higher, depending on the prevailing crypto sentiment and momentum.
On the contrary, the daily candlestick closing below $40 would leave a bearish pin bar. This is a less likely scenario, given the strong breakout by DASH at the key level. The bear scenario would leave the DASH price vulnerable to $35.
Where to buy DASH
eToro
eToro offers a wide range of cryptos, such as Bitcoin, XRP and others, alongside crypto/fiat and crypto/crypto pairs. eToro users can connect with, learn from, and copy or get copied by other users.
Buy DASH with eToro today
Disclaimer

Binance
Binance is one of the largest cryptocurrency exchanges in the world. It is better suited to more experienced investors and it offers a large number of cryptocurrencies to choose from, at over 600.
Binance is also known for having low trading fees and a multiple of trading options that its users can benefit from, such as; peer-to-peer trading, margin trading and spot trading.
Buy DASH with Binance today
Main Players in the Metaverse
Curious about the future of the metaverse and which projects will dominate? This article will discuss through The Sandbox, Metacade, and Decentraland price forecasts for 2025 and give you an idea of what you might expect in the long-term.
What is The Sandbox (SAND)?
The Sandbox is a decentralized 3D world that allows users to create, share, and monetize in-game experiences. The Sandbox lets players build whatever they like using voxels, the blocks that are characteristic of the game's design. This isn't just an aesthetic choice, however; they're designed to be easy to manipulate and allow players to create intricate and detailed objects, like cars, buildings, sculptures, and more.
To build in The Sandbox, players first need to own LAND. LAND tokens are non-fungible, allowing them to be bought and sold with SAND tokens. Once they own LAND, players can choose to buy ASSETs (objects designed by other players) or build items in VoxEdit and use them in the Game Maker to create immersive games and experiences. Companies like Forbes, Gucci, and Warner Music Group have all used these tools to take their first steps in the metaverse, and many more are likely to come. 
The Sandbox (SAND) Price Forecast 2025
With metaverse adoption growing, it's likely that The Sandbox will live up to its namesake and act as a testing ground for brands looking to join this new digital frontier. Adding more names to its already-growing list of high-profile companies using The Sandbox will likely spur a flood of investment and could push SAND much higher than its current price of $0.42. At the least, $2.50 is definitely achievable, while somewhere between $4.50 and $5 is more likely. 
What is Metacade (MCADE)?
Metacade is a community-based platform built for metaverse and play-to-earn (P2E) gaming. It's a hub where gamers go to discover the latest P2E games, explore the rapidly-expanding metaverse space alongside like-minded peers, and make a direct impact on the future of GameFi. At its core, Metacade has everything you'll need to make the most out of metaverse and P2E gaming, like reviews, leaderboards, alpha, forums, and chat rooms, where you can make friends and earn for your contributions to the community.
That's right: every time you post a review, some game-winning tips, or other useful content, you're rewarded with MCADE tokens for your part in growing the platform. You'll also discover regular prize draws and tournaments where you'll go head-to-head against other Metacade users for a chance to win big. There are even plans for a job board in 2024, where you'll find gigs, part-time roles, and salaried positions working with some of the biggest names in Web3. 
By 2025, two of Metacade's most attractive features will be live. The first is its decentralised autonomous organisation (DAO), where users will be able to participate in shaping the world's first player-owned virtual arcade. The second is the Metagrant. Metagrants are a funding tool that lets Metacade users vote on the development of P2E games. Developers present their ideas to the community, and the one that receives the most votes is awarded funding from the Metacade treasury to help bring their game to life.
Metacade (MCADE) Price Forecast 2025
With a host of innovative features, a focus on community ownership, and the potential to rapidly attract thousands of players, Metacade is likely to be ahead of the curve by 2025. The MCADE token is currently in presale and is expected to launch to the public at $0.02 per token. 
Given that metaverse and GameFi adoption is expected to accelerate by 2025, achieving $0.20 – a 10x increase – is a reasonable forecast. If things work out as planned for Metacade, reaching anywhere from $0.50 to $1 is a strong possibility. In other words, a $1,000 investment made at the end of presale could be worth as much as $25,000 to $50,000 by 2025!
What is Decentraland (MANA)?
Decentraland, like The Sandbox, is a 3D world where players can own in-game property (also known as LAND), create experiences, and explore others' creations. Whereas The Sandbox places a greater emphasis on games, however, Decentraland's purpose is more general, focusing on user-generated content and art. Decentraland also allows users to discover the world around them in VR – something The Sandbox is yet to offer.
Since its inception in 2017, Decentraland has grown to host art galleries, museums, casinos, nightclubs, hotels, and more. It also regularly hosts events, like concerts, conferences, and social meetups for the community to enjoy. As part of its DAO structure, Decentraland allows users to attend a virtual town hall meeting and vote to determine the future of the platform.
Decentraland (MANA) Price Forecast 2025
While Decentraland doesn't have partnerships with as many brands as The Sandbox, its status as one of the oldest metaverse projects is likely to give it an edge. As more players join the metaverse revolution, MANA could see a new wave of investment and pick-up traction, sending it much higher than today's price of $0.32. 
The most optimistic Decentraland price prediction for 2025 would be for MANA to return back to its November 2021 highs, or somewhere between $5 and $6. The more realistic Decentraland price prediction for 2025 would be around $3.50 to $4. 
Metacade (MCADE) is an Immensely Undervalued Metaverse Project
The Sandbox, Metacade, and Decentraland are all likely to do well over the next few years as more users join the metaverse. But while the ship has probably already sailed for massive gains in SAND or MANA, MCADE has everything to gain. With the token still in stage 1 of presale, there couldn't be a better time to get in. Already, Metacade has sold over $1.55m in MCADE, and this number is expected to reach at least $20 million by the end of presale. Don't wait – grab your share of MCADE before it's too late!
You can buy Sandbox and Decentraland at eToro here.
You can participate in the Metacade presale here.
Trust in the crypto ecosystem needs to be rebuilt 100%
Retail investors will sit out of the crypto market in 2023
VC funds aren't going to stop investing just because of FTX
TechCrunch senior crypto reporter Jacquelyn Melinek talked to CNBC Market Alert about what lies ahead for the crypto market in 2023, after a painful year for digital assets, investors and other stakeholders in the sector.
Will crypto have any kind of future in 2023?
Jacquelyn Melinek:
There's a high chance retail investors will sit out of the crypto market in 2023, especially those who have been interested in the past but have seen many industry changing events like Terra's collapse…at the same time, the true believers are those who are building the space, so these people will continue to be here in 2023. 
Who will be the main investors in crypto in 2023?
VC funds aren't going to stop investing just because of what happened with FTX. We're seeing big brand businesses like Starbucks getting into the space. Beyond that, we're going to keep seeing banks getting into the space. 
2022 has been a rough year for anyone that needs capital. What needs to happen for the crypto ecosystem to "get its mojo"?
Trust needs to be rebuilt 100%. Regulators need to step in and create a framework instead of using old-school techniques that we see with traditional markets. 
Metacade's Presale Set To Explode in 2023
Crypto is famous for producing insane returns, and getting in on crypto presales is the easiest way to ensure the highest potential for gains. This high potential for earning, followed by a decrease, is caused by an economic principle called the law of diminishing returns, which states that an asset's value growth will begin to slow down over time.
One presale that has proven to be a significant success is Metacade (MCADE). Metacade is building a major GameFi platform to rival some of the biggest names in the space, so it's worth investigating before the price rises even further.
The Metacade presale is a big investment opportunity
Crypto presales are extremely popular, especially for projects with strong fundamentals like Metacade. Case in point, the beta phase of the MCADE presale attracted over $1.3 million worth of investment in just four weeks, reflecting the project's long-term potential.
Metacade launched its MCADE token at $0.008 at the beginning of its crypto presale, but now the price is rising. The price will continue growing until it reaches $0.02 at the end of the presale. For investors looking to get a good deal, the sooner you pick up tokens the better.
MCADE price prediction: 2023 and beyond
After reaching $0.02 at the end of its presale, MCADE will be launched on decentralized exchanges (DEXs), and the team will start to form partnerships to expand the reach of the token. Aside from this, the MCADE token will gain utility once it opens the comprehensive gaming experience planned for the Metacade platform.
The long-term potential of Metacade is very promising as a result. Experts predict explosive price action during 2023, which could see gains of up to 50x. This price explosion would give the MCADE token a value of $1 – a significant increase from its final crypto presale value of $0.02.
After 2023, analysts expect the crypto market to begin its next bull run once Bitcoin's halving event ends during 2024. Bull markets usually produce major gains across the board, which could push the MCADE token up in value even further. By this time, MCADE could reach over $5, a massive 250x increase between the crypto presale and 2025.
What is Metacade?
Metacade is creating the biggest arcade on the blockchain, bringing advanced gaming capabilities to the world of Web3. GameFi enthusiasts can play a wide range of arcade-style games that each offer crypto rewards and participate in paid entry tournaments to win MCADE prizes.
Several additional features truly make Metacade stand out as a prime investment opportunity during its crypto presale. First, the project aims to serve Web3 users directly by providing a central location for gamers to get together and access valuable information about the space.
Over time, Metacade aims to become a decentralized autonomous organization (DAO). This shift will give complete control over the platform to the Metacade community, as all MCADE token holders will be able to vote in governance proposals and help drive the project's future progress.
How does Metacade work?
Blockchain gamers can access endless challenges across many play-to-earn (P2E) games. Whether looking to play casually or competitively, Metacade offers players the chance to enjoy various addictive arcade games while earning MCADE tokens for their efforts.
In the Metacade, gamers also earn crypto tokens for contributing useful information to the community. These contributions can include the latest tips and tricks and anything else to help other gamers make the most out of their blockchain gaming experience.
Another key feature offered by Metacade is the chance to test out brand-new blockchain games before they officially launch. These beta-testing roles allow players to provide feedback to game developers, who can implement any improvements suggested by the Metacade community, including bug fixes and gameplay optimizations.
Metacade is expanding the reach of blockchain-based gaming
Metacade also aims to provide a critical service that can help the wider GameFi industry to grow. Its Metagrants program will provide funding for the most in-demand blockchain games, as the Metacade community will be able to vote for the titles that they most want to play in the future.
Blockchain is a technological advancement hub, and Metacade supports continuing progress in this area. Early-stage funding is critical in the process, as creating and launching new games requires a high level of support. Through connecting developers with its community of gamers, Metacade is directly helping to expand the scope and scale of innovation in blockchain.
Is Metacade worth buying in 2023?
The Metacade presale is a significant buying opportunity for crypto investors. Luckily, $0.008 is a meagre price for a project that offers real promise for the future, and it's no surprise that the beta phase sold out quickly.
The presale will see the MCADE token rise to $0.02, so investors still have time to make some bear market gains. However, Metacade is undoubtedly a great addition to any investment portfolio, and it will be fascinating to see if it will reach the $1 mark during 2023.
You can participate in the MCADE presale here.