FTX token currently trades 11% above all-time low
The FTX token has declined more than 76% in the past two weeks and is down 98% from its all-time high.
Yet, it's still higher than its all-time low reached in 2019 and has about $418 in market cap.
FTX was seen as one of the best cryptocurrency exchanges in the world until its collapse stunned the crypto industry. 
Just to sum up what happened, FTX's bankruptcy filing has shown that pretty much everything that hit the exchange has to do with the failings and crimes by founder Sam Bankman-Fried.
FTX token decline not as spectacular as LUNA
Despite the FTX implosion and the fact that millions of people are likely to have lost all their money, the FTX token hasn't gone to zero yet. In fact, FTT still trades around the same price levels as when it hit the market following its launch.
The FTX token was launched on 8 May, 2019 and reached an all-time high of $85.02 on 9 September 2021. At current levels, to which the token slumped following last month's FTX implosion, FTT is more than 98% down on its all-time peak.
So what's happened? Everything, but the demise of the FTX token that hasn't happened as spectacularly as what occurred with Terra (LUNA) in May 2022.
As seen on CoinGecko, FTT is trading near $1.28 – about 11% higher than its all-time low of $1.15 hit on 6 September 2019. The FTX token ROI is at nearly 28%,  
And with its market cap still above $410 despite the FTX bankruptcy and all that's been revealed about the formerly 'SBF empire', it's pretty easy to say that FTX may be 'dead'- but FTT is not there yet. Over $10 million worth of FTT was traded in the past 24 hours.
Just for context, Terra Classic (LUNC), the Terra token that went to zero in May, still sees action with more than $115 million worth of trades in the past 24 hours.
IMX is down by 9% but will it recover soon after Nifty Gateway launches on Immutable X?
Nifty Gateway officially launches on the Immutable X network.
IMX has lost nearly 10% of its value and could dip further before the end of the day.
The broader crypto market continues its poor performance this week.
Nifty Gatesway launches on Immutable X
IMX, the native token of the Immutable X Layer-2 blockchain, is down by more than 9% in the last 24 hours. At press time, the price of Immutable X stands at $0.44 per coin.
Nifty Gateway, a leading NFT marketplace, officially went live on the Immutable X network on Wednesday. According to the Immutable X team, they would work on high-quality games, looking for a premium drop experience provided by Nifty Gateway.
We're excited to share that @niftygateway is officially live on ImmutableX!

They are the MOST premium marketplace for NFTs. They are expanding beyond art and into gaming #onIMX where we will work together to onboard the next billion users into web3 🧵https://t.co/tkKUZ6mqV4 pic.twitter.com/AbBgtfpkvd

— Immutable 🅧 – $IMX (@Immutable) December 7, 2022
This latest cryptocurrency news wasn't enough to get IMX out of its ongoing bearish trend. The broader cryptocurrency market has also been underperforming over the last 48 hours. The total crypto market currently stands at $840 billion, down by 1.6% in the last 24 hours.
 Bitcoin and Ether, the two leading cryptocurrencies by market cap, have also been bearish lately. Bitcoin is down by more than 1% so far today and is trading around $1,680 per coin, while Ether has lost 2.6% of its value and is now trading at $1,229.
Key levels to watch
The IMX/USD 4-hour chart has turned bearish as Immutable X has been underperforming in the last few days. The broader crypto market is outperforming IMX at the moment.
IMX's MACD line dropped into the negative zone yesterday, indicating that the bears have taken control of the Immutable X market. The 14-day RSI of 39 shows that IMX could enter the oversold region soon.
With the bears in charge, IMX could dip below the $0.3984 support level before the end of the day. However, unless the bulls recover quickly, IMX could slip toward the $0.3761 support level in the near term. 
Where to buy Immutable X now
Huobi
Start Your Cryptocurrency Journey Today. Huobi Global has a variety of features that make it an ideal place to buy and sell digital asset.
Buy IMX with Huobi today
Wait for a bullish confirmation as Dogecoin (DOGE/USD) retests the $0.09 support
Dogecoin lost 4.58% on Wednesday in a market correction
The cryptocurrency still holds a bullish bias
DOGE is a buy on bullish signals at the support zone of $0.09
An intraday loss of 4.58% may not be good news for investors holding Dogecoin (DOGE/USD). However, it rings well in the ears of investors looking to have a piece of the meme cryptocurrency. That's because DOGE's slide takes it back to an important breakout level that has now become support. The level is a buy zone as long as DOGE confirms a bullish reversal. It could happen in the next few days.
The trading in DOGE coincides with unending speculation that Twitter will use cryptocurrency as the payment method. Even as most cryptocurrencies continue to struggle, DOGE is giving investors hope that a recovery is on the horizon. Since the FTX-inspired rally, DOGE has been on a slow but sustained recovery. Buyers are also taking note.
DOGE holders' distribution indicators show that nearly 70% of buyers of the cryptocurrency hold it for more than a year. These are holders convinced of a return to previous all-time highs, unlike short-term traders who exit at the next profit level. But aside from this key fundamental, DOGE is currently attractive to short-term buyers, as the technical indicators below show.
DOGE retests $0.09 for a potential bullish move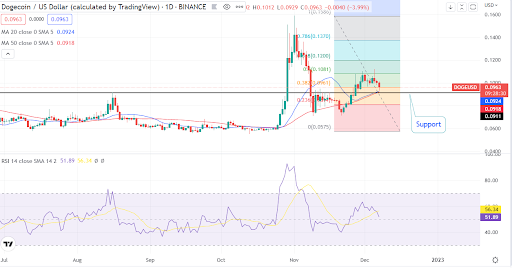 DOGE/USD Chart by TradingView
The daily chart outlook shows DOGE retesting the support at $0.09. That comes as the price was rejected at the 50% Fibonacci retracement level, coinciding with a price of $0.10. The slowdown has resulted in a decline in RSI, although the reading remains above the midpoint.
Potential price action at the $0.09 support could usher in an upside. The support also coincides with the 20-day and 50-day moving averages, giving a confluence of price action for DOGE.
What to watch next for DOGE?
Bullish reversal signals at the $0.09 support will validate buying Dogecoin. The reversal will set DOGE for $0.12, the 61.8% Fibonacci retracement zone. 
Where to buy DOGE 
eToro
eToro offers a wide range of cryptos, such as Bitcoin, XRP and others, alongside crypto/fiat and crypto/crypto pairs. eToro users can connect with, learn from, and copy or get copied by other users.
Buy DOGE with eToro today
Disclaimer

Toko (TKO/USD) gains 100% on Binance news
TKO rose by 100% on reports of the acquisition of Tokocrypto by Binance 
The cryptocurrency has slid by 28% since forming a local top at $0.57
TKO could correct to $0.34
Toko (TKO/USD) token is attracting buyers. With a surge of 100%, it may be too late to buy TKO now. But when an opportune moment comes, you could snap the token, thanks to positive cryptocurrency news.
The gains in TKO come amid reports that Binance is acquiring the Indonesian crypto exchange Tokocrypto. We know that Binance is the world's biggest crypto exchange. Thus, any approach to acquisition is likely to build optimism. TKO, the native token, reacted to the news, rising sharply from $0.283 to $0.57.
Binance is particularly interested in Tokocrypto since it is locally regulated. It is the first entity to be registered under Indonesia's Commodities Futures Trading Regulatory Agency. Binance already holds an investment in the Indonesian exchange since 2020.
But the sharp gains in TKO may prove difficult to hold, at least for now. As of press time, TKO traded at $0.42, a decline of 28% from its local high. The trading volume had also fallen sharply and was only up 2.99%. However, to an investor monitoring the positive developments of Tokocrypto with Binance, TKO should remain on the waitlist.
TKO corrects but is yet to find support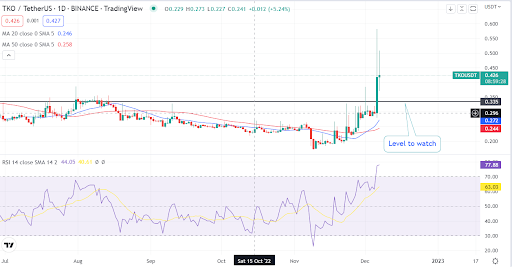 TKO/USDT Chart by TradingView
Technically, TKO is bullish but faces a correction. From the RSI indicator, a reading of 77 implies that TKO is overbought and a correction is on the horizon. 
The support lies at $0.34, giving bears a chance to push the cryptocurrency lower. The level was a breakout zone that was triggered as the price was pumped.
Concluding thoughts
TKO faces further gains if the reports of the acquisition of Tokocrypto get confirmed by Binance. However, currently, investors face a correction.
If you are looking to buy the token, the level to keep an eye on is $0.34. Also, monitor the developments around the token, as positive news can trigger sharp rises before reaching support.
Where to buy TKO 
Binance
Binance is one of the largest cryptocurrency exchanges in the world. It is better suited to more experienced investors and it offers a large number of cryptocurrencies to choose from, at over 600.
Binance is also known for having low trading fees and a multiple of trading options that its users can benefit from, such as; peer-to-peer trading, margin trading and spot trading.
Buy TKO with Binance today
Wazirx
WazirX is India's largest crypto exchange. Started in 2018, WazirX has grown to be the most trusted exchange in the Indian crypto market. It is a part of the binance group, serving users in 180 countries.
Buy TKO with Wazirx today